The electronic ID card
Content of the electronic ID card
The following data is recorded when an application is made for an electronic ID card: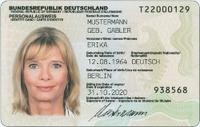 Sample electronic ID card Source: BMI
Surname and name at birth,
First name(s),
Doctoral degree,
Date and place of birth,
Photograph,
Signature,
Height,
Eye color,
Address,
Nationality,
Serial number and
Religious name, pseudonym.

All the data is printed on the electronic ID card.
A three lines machine readable zone (MRZ) is located on the back of the ID card, which can be read by optical character recognition (OCR).
It encloses the abbreviations "ID" for ID card or "IT" for provisional ID card, "D" for Germany, the surname, first name(s), serial number, the abbreviation "D" for German nationality, date of birth, the last day of validity, check sums and blank spaces.
The RF chip contains all data of the machine readable zone, all printed data excluding height, eye color and signature and the fingerprints if desired by the card bearer.