Risks and opportunities of RFID systems usage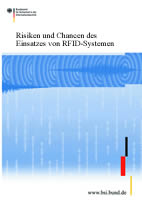 A study of the Federal Office for Information Security in cooperation with the Institute for Futures Studies and Technology Assessment (IZT) and the Swiss Federal Laboratories for Materials Science and Technology (EMPA).
Within the project "Security Aspects and Prospective Applications of RFID Systems" (RIKCHA) a study in the field of pervasive computing was carried out. The field of pervasive or ubiquitous computing deals with integrating the smallest processors and sensors into everyday objects and thus making them "smart". While the first systems are already in use (animal identification, identification of waste containers) and other concepts are being tested in field trials (smart labels in clothing, Metro Future Store, etc.), the influence on the daily life of the user or the impact on IT security have not yet been investigated.
The aim of the study is to identify the opportunities and risks associated with the use of RFID systems, i.e. to document and within limits to predict the usage of radio frequency identification systems (RFID) , to illuminate selected areas of application and to show the impact in the field of IT security.
To the English version of the study
The study results were presented on November 17, 2004 at the Museum for Communication in Berlin.
All presentations of the event are available as PDF documents, in German only: